The Indian Gooseberry – Ayurveda's Wonder Fruit
As a child, whenever I visited Kerala, my birthplace, one of my favourite treats would be biting into a globe-shaped, lime-sized Indian Gooseberry- known as Nellika in Malayalam- and then following it up with a sip of water. There would be a rush of sour juice tickling my taste buds, and then my mouth would be filled with sweetness as I drank the water. It was like magic…and the Indian Gooseberry has truly magical properties too. For thousands of years, Ayurvedic physicians or vaidyas, have used this marvelous fruit to prevent illness, cure diseases and rejuvenate the body. The Indian Gooseberry also known as Emblica Officinal is a robust source of Vitamin C. The amounts of Vitamin C in mid-sized Gooseberry is four times and eight times more than what it is found in mid-sized orange and tomato respectively. It is also rich in bioflavonoids, flavones, polyphenols and carotenoids. An unique property this of fruit is that the ascorbic acid found in it is nearly indestructible even by burning or drying.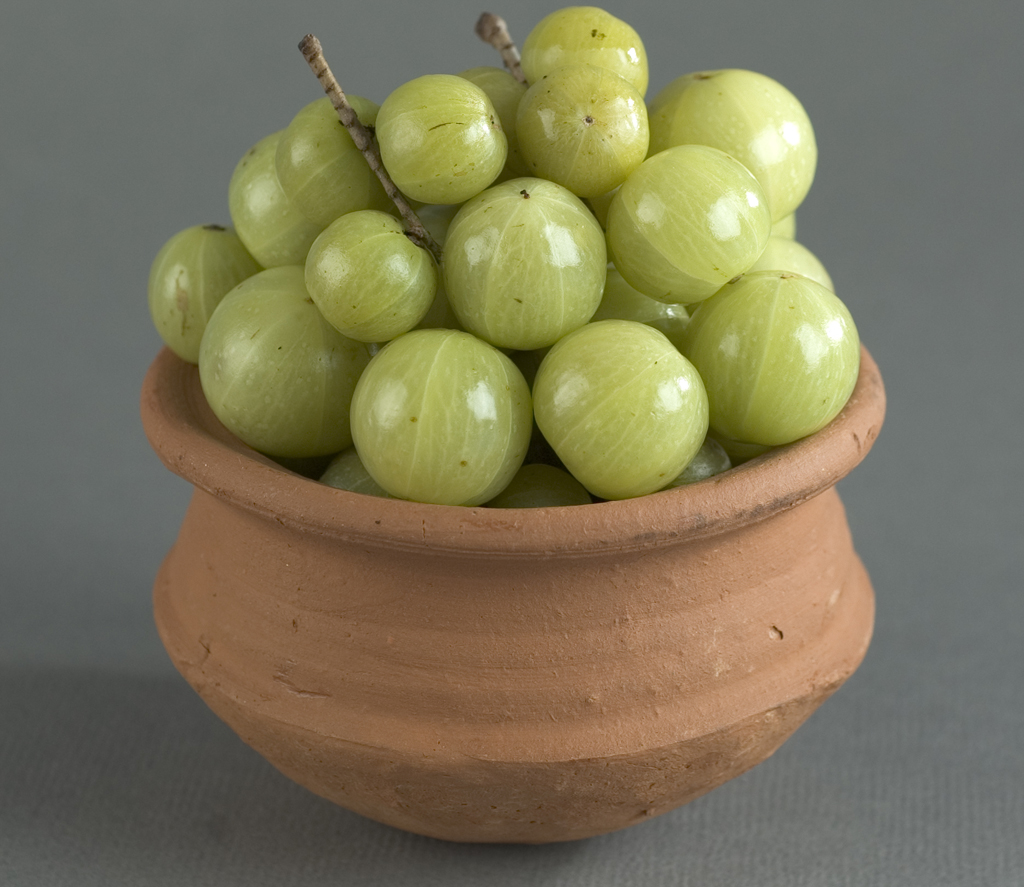 The Tree and its Wonders
The Indian Gooseberry is known as Amla and Amalaki as well. It is a deciduous tree found throughout India, with feathery leaves, and pale green flowers. The fruits are traditionally used in pickles, chutneys and other curries when in season. They are also preserved by soaking in salted water and then used regularly used throughout the year. But it is the medicinal properties that give this fruit the place of honour in Ayurveda. To begin with, it restores the balance of the three vital forces- or the tridoshas – that is unique to every individual, and by doing so, promotes good health. The Indian Gooseberry is especially beneficial for hair and skin problems. It reduces burning sensation of the skin, strengthens the hair follicles and reduces the inflammation of scalp. It also boosts immunity and helps prevent acne and pimples. Amla is useful in treating eye disorders too, and maintaining good eyesight. It strengthens the nervous system, enhances memory, and sharpens sensitivity of the sense organs.
Amla helps to normalize digestion, reduce acidity and rejuvenate liver. It is also effective in relieving constipation. It has a positive effect on the circulatory system as well, for it acts as a cardiac tonic. Amla clears the respiratory system too. It helps to soothe inner layers of bladder and to reduce frequency of urination. This fruit acts as an aphrodisiac, increases sperm count and motility, and helps to rejuvenate male reproductive system. Due to its strong, cooling and laxative properties it has been widely used in hemorrhage, diarrhea and dysentery. It prevents infection due to the antibacterial and astringent attributes present in it. It has been widely used for treatment of leucorrhea and atherosclerosis. Above all, consuming gooseberry is considered the best antidote against age-related disorders.
Home Remedies
The Indian Gooseberry is used for many Ayurvedic home remedies. 5 gms of gooseberry mixed with 1 tbsp honey and taken every morning, is an effective treatment for asthma. If you are worried about hair loss, you can either eat Amla everyday or apply its paste on your hair roots. First boil six amlas with a cup of milk, till they are soft. Remove the seeds and mash it into a pulp. Apply this paste to your hair roots and leave it for 20 minutes before washing your hair. Consuming the fresh juice of amla with clarified butter and honey is a good way to fight acne. Fresh Amla juice mixed with fresh ginger juice, honey and a pinch of rock salt is an effective remedy to prevent frequent attacks of common cold and sinusitis. Add one teaspoonful of dried Aamla powder in warm water and mix 1 teaspoonful of honey and drink thrice a day to relieve a sore throat and hoarse voice.
In the case of a dry cough, add a pinch of rock salt and a decoction of fennel seeds to this mixture. Probably the most celebrated effect of Amla is its anti-diabetic property. One fourth cup of Amla fruit juice drunk every day helps to control your blood sugar. Amla is known as a rasayana herb that enhances and restores the process of conservation, transformation and resurgence of the life force. It is one of the ingredients of the most famous Ayurvedic compound Triphala and the chief ingredient in Ayurvedic herbal tonics. In short, the Indian Gooseberry is an Ayurvedic Physician's Medicine Box all by itself… and the rest of the world too is discovering that it is truly a 'wonder fruit.'