Sirovasti – Oil Therapy for the Head
"Frequent headaches and migraines left me feeling deeply distressed and depressed" said Antoinette Bardot, a resident of Paris, "So when a friend suggested an Ayurvedic therapy called Sirovasti, I was intrigued. I did some research and learned that Ayurveda is the world's oldest system of healing, and that all its therapies are completely nature- based.  I was also quite thrilled to learn that Kerala has some of the finest Ayurvedic physicians in the world. I have always wanted to visit Kerala, that beautiful state in South India that is called 'God's Own Country' so I decided to come and have the treatment done here."
The Ayurvedic  physican that Antoinette  consulted in Kerala explained to her  that  Sirovasti is a procedure in which medicated oil is retained on the head for a prescribed  period of time. She had to have hair cut short- she saw some patients, who were willing, even to shave their heads completely for this purpose.  Warm herbal oils were then applied all over her body to nourish the nerve endings and prepare the body for the main treatment. She was seated on a comfortable chair and a cylindrical leather cap, about 10 inches high, and open on both ends was placed securely on her head. The cap was made of smooth, soft   leather and was kept in place by tightly wrapped cloth bandages that also served the purpose of preventing leakage of oil.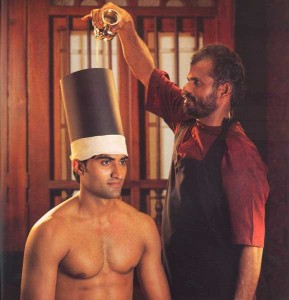 The Treatment
The oil used for Sirovasthi is a combination of gingelly oil, staff tree, castor oil, ghee, common milk and medicated herbs like black gram, winter cherry, bala, and bacopa. The herbs and oil are boiled in a specific manner in order to extract their full medicinal properties.  Then the oil is taken at a comfortable temperature, and poured into the cap from a prescribed height, until the head is completely covered in oil. It is retained on the head for a maximum of 45 minutes, by which time discharges start coming from the nose and mouth.  The oil is then drained by bending the head slightly and making small openings in the bandage. The palms, shoulders, soles and ears are next warmed with a gentle massage after which fresh oil is applied on the body and a bath with lukewarm water is given. The treatment is continued for seven days, and a full course involves 7 days of preparation and another 7 days of post treatment procedures as well.  The physician will also prescribe a special diet as well as some medicines called kashayams and lehyams.
Effectiveness and Benefits
Sirovasti  is highly recommended chronic  headaches and migraines, as well as diseases of the eye and ENT problems. The treatment shows positive results in cases of facial paralysis and mental disorders. Cervical Spondylosis and dryness and itching of the scalp are some of the other conditions for which Sirovasti is indicated. During the process, the medicated oil acts on the person's brain and tunes up the central and autonomous nervous system, as the spinal cord, peripheral nerves and the sympathetic nerves all receive the medicinal effects of the oil.  As a result, the mind is relieved of stress and strain and nerve disorders are cured. In the case of Antoinette, she got immense relief from the headaches and migraines that plagued her… and once the treatment was over, she finally realized her dream of touring God's Own Country as well!