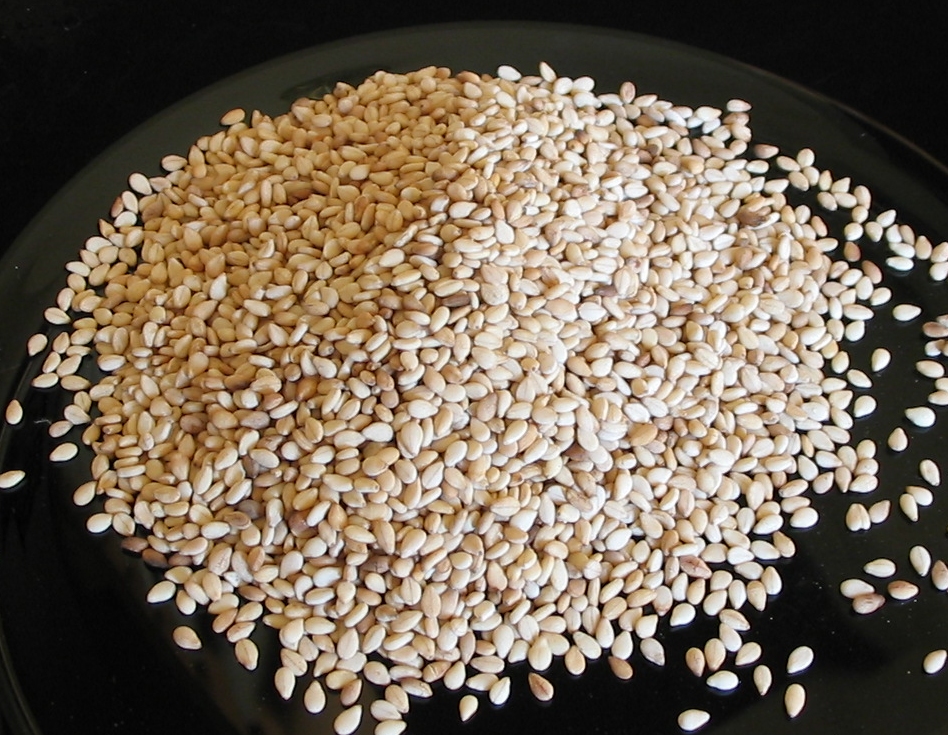 Sesame Seeds – Ayurveda's Open Sesame To Health
"Open sesame" is a familiar phrase to anyone who has read or heard the story of 'Ali Baba and the Forty Thieves' from the Arabian Nights. The two words that magically opened a cave filled with treasures, reflect the characteristic of the Sesame seed pod, which bursts open spontaneously when the seed ripens and reaches maturity. Sesame seeds have been part of Indian culture for thousands of years and are an integral part of religious ceremonies, rituals, and most auspicious occasions. These seeds may be one of the oldest condiments known to man, and have been widely used to add a nutty flavor and delicious crunch to many dishes. Pat Sullivan – Auburn Tigers Jerseys Sesame seed is rich in a number of nutrients, including calcium, copper, manganese, iron, zinc, thiamine, and magnesium. It also contains a good bit of dietary fibre. Baskets Under Armour Pas Cher Sesame seeds are mentioned in the ancient sacred texts the Vedas, and have been used in the treatment protocols and products of Ayurveda, the Mother of all healing systems. The sesame seed, from an Ayurvedic perspective, is sweet, pungent, astringent, bitter, and has a heating effect. These seeds are highly valued for their light golden coloured oil.
Nourishing, Healing, Calming Nourishing, calming and warming, sesame oil is a fundamental part of Ayurvedic massages. It is said that a self massage with sesame seed oil promotes physical strength, nourishes muscles and bones, and facilitates comfortable joint movement. Ayurvedic physicians also recommend it for promoting sound sleep, strengthening the intellect and nervous system, and nourishing the skin and hair. Nike Roshe One Uomo In addition to self massage, Sesame seed oil is vital in the Panchakarma therapies of Ayurveda. These are purification procedures that dissolve metabolic waste products and environmental toxins from our tissues in a gentle and effective way and eliminate them from the body. Kerala, one of the top tourist attractions in the world today, is especially renowned as the most favoured destination for panchakarma therapy conducted under the expert supervision and guidance of Ayurvedic physicicans whose lineage goes back to the ancient sages. New Balance Pas Cher Tiny but Potent The Sesame seed may be tiny, but it packs a powerful punch. Sesame oil is extremely beneficial in case of dandruff. Massage the scalp with Sesame oil for 30 minutes and cover the head with a hot towel that has been soaked in hot water and squeezed. To promote healthy sleep patterns, massage the scalp and soles of the feet with Sesame oil before bedtime. Kyle Hendricks Authentic Jersey Sesame is beneficial for the teeth and strengthens them. Take 10 gm of Sesame and chew it slowly daily for maximum benefit. Nike Pas Cher You can also swish the oil in your mouth to reduce the amount of bacteria present and to support strong teeth and gums. . In case of arthritis, knee pain and other joint problems, add ginger juice in Sesame oil and boil till ginger juice evaporates completely. Sieve the remaining oil and store it in a bottle. Massage the painful area with this oil. Maglie Atlanta Hawks The benefits of Sesame oil apply to almost every part of the body. nike air max 2017 goedkoop Add Sesame oil and turmeric powder in milk and heat it slightly, apply this paste on the face everyday regularly. This makes the skin smooth and soft and also removes pimples. In the case of dry cough take four to five teaspoons spoons of black pepper and same amount of Sesame. Boil it in one glass of water till it reduces to half the quantity, and drink the concoction thrice daily for relief. Trevone Boykin Jerseys Warm Sesame oil, rubbed on the abdomen can reduce stomach cramps. The oil is also used in Ayurveda to lubricate and support the bowel, soften the stool and also as a vaginal douche. Kole Calhoun Jersey Consumption of sesame seeds is recommended to improve sexual capacity as it increases the sperm count. 100 gm sesame contains 1.5 gm calcium, 5.5 gm phosphorous, and 10 gm iron. Sesame contains Vitamin B complex and also lecithin which is beneficial for the brain.