Pizhichil – Ayurveda's Royal Treatment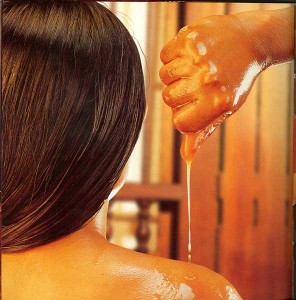 Ayurveda, the world's oldest system of healing, has its roots in nature, and all its treatments and procedures are based on the gifts of Mother Earth. One of the most effective of its therapies is Pizhichil, which literally means 'squeezing'.  A unique contribution from Kerala, the cradle of Ayurveda, Pizhichil was very popular with the kings and aristocrats of yore, and consequently is often referred to as 'the King's treatment."  It involves warm medicated oils being squeezed from a piece of oil-soaked cloth on to the patient's body which is simultaneously given a gentle, rhythmic massage. The oil is kept in two vessels, one on either side of the patient who is made to sit on a droni or special chair. The patient sits with legs outstretched, while two trained practitioners rub the oil to stimulate the skin and relax the muscles. They use two pieces of folded linen and their hands for this purpose. The linen is dipped in the oil and squeezed so that the warm, fragrant oil dribbles down steadily. The attendants squeeze the oil with their right hand and simultaneously massage with their left hand in downward strokes. The patient will be in a sitting posture at the beginning and at end of the procedure.  In between, he or she is made to lie down on a special table made from a single piece of Strychnous Nuxvomica wood, as the massage continues. . Not a single inch of the body is left out, and the patient is made to adopt seven different positions to ensure this. The procedure is then followed by a medicated steam bath.  This therapy continues for about one hour for a period of one to three weeks, depending on the prescription of the Ayurvedic practitioner.
Benefits of Pizhichil
Pizhichil is very effective in treating all rheumatic diseases, arthritis, paralysis, neurological disorders and blood pressure. It is also recommended in cases of sexual weakness. This is a highly rejuvenating treatment that enhances muscular tone and re-tunes the entire nervous system. It improves skin complexion, delays aging, promotes optimum health, helps in healing of fractured bones, increases immunity and prolongs life span. The warmth and herbal properties of the oil wash away any tension lodged deeply in muscle tissue and the joints. The treatment releases toxins not only within the body but from the mind and spirit as well. As the skin is hydrated, circulation improves; energy levels rise and tensions melt away. A sense of warmth and well being permeates body and soul. Is it any wonder then that Pizhichil is considered to be a therapy for kings, and the king among therapies?