Neem – Ayurveda's Pharmacy
If you visit Kerala, a tropical paradise in South India, you will notice not only an ocean of coconut palms, but also a lush variety of other flora. Prominent among these is a medium to large sized tree that has a straight trunk and long pendent leaves that bear up to twenty nine or thirty deeply serrated, sharply pointed curved leaflets. This is the Neem, an evergreen tree with a fresh green colour that is Ayurveda's village pharmacy because of its wide variety of applications. In fact, in Kerala, it is believed that ideally, every home should have a neem tree in its compound.
The Neem's scientific name is Azadirachta indica and every part of this plant has medicinal uses. It is found throughout the tropics, and Ayurvedic practitioners in Kerala have developed a vast database of knowledge and medicinal preparations that have been tried and tested over thousands of years. Modern research studies have discovered that Neem leaves contains both alkaloids and liminoids, each with an array of medicinal properties For instance, one liminoid- azadirachitin- has been found to be 95% effective when used as a pesticide and insecticide. Another liminoid found in Neem leaves –gedunin- has been used to treat malaria in tropical countries. Two other alkaloids -nimbin and nimbidin- have antiviral and antifungal properties.
Nature's Tootbrush
The earliest Sanskrit medical writings refer to the benefits of Neem's fruits, seeds, oil, leaves, roots and bark, making it truly a 'wonder tree'. The Neem bark has cool, bitter, and astringent properties, and is traditionally used to treat tiredness, worms, fever and loss of appetite. Because of its antiseptic and astringent properties, it is especially helpful in healing wounds. Probably the most common use of Neem bark is to clean the teeth. The traditional method is to snap off a twig of the tree and chew on it. The astringent qualities of the bark prevented bleeding gums, tooth decay and foul smell long before the advent of toothpaste. Indian villagers regularly use Neem twigs as tooth brushes- perhaps this is the reason for their strong and healthy teeth! Neem in the form of powder is also used to brush teeth and massage gums.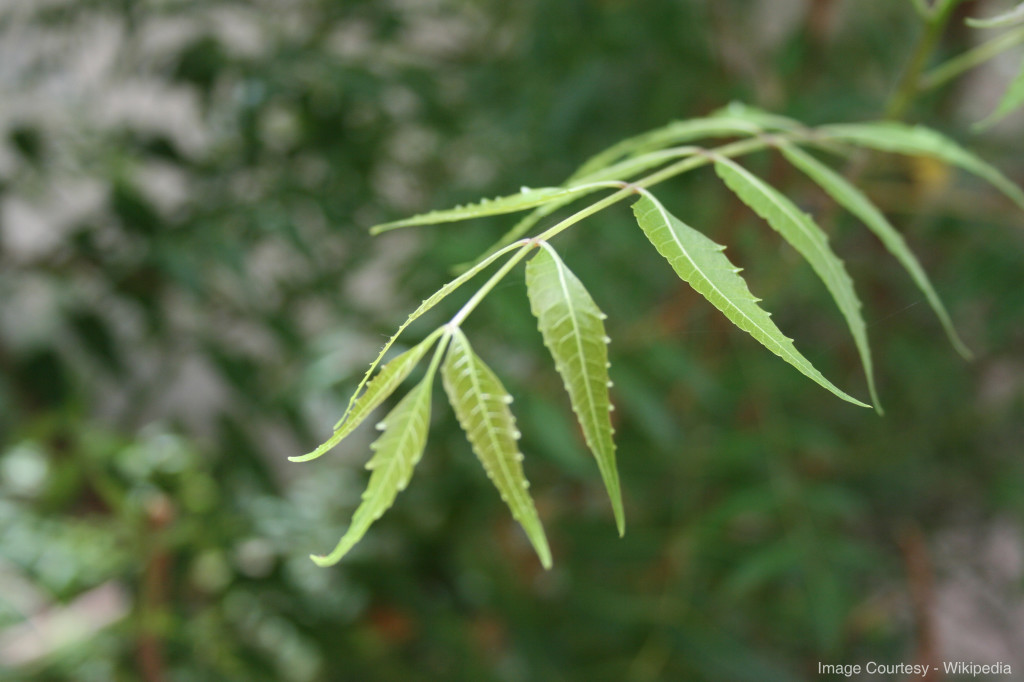 The Magical Leaf
The Neem leaf is famous in ayurvedic texts for having an almost magical effect on the skin. It works as an antifungal, antiseptic, and anti-inflammatory agent. It is effective in treating eczema, ringworm and acne. Traditional methods include crushing the leaves into a paste and applying directly to wounds, ulcers or areas affected by skin disease. Neem leaves purify the blood, and neutralize damaging free radicals. Experiments have shown that one of the neem's components, gedunin, a limonoid, is as effective as quinine against malaria. The Neem leaf is also revered for its antibacterial and antiviral properties. Even today in India, people sprinkle fresh Neem leaf near the beds of patients with flu or fever, and hang a cluster of leaves on the door outside. It is believed that air that crosses the neem leaf is purified of viruses and bacteria, helping to disinfect the room and prevent the spread of disease. Neem leaves are also used in the storing foodstuffs to keep insects away.
A Myriad Uses
The fruits of the Neem are yellow or purple and the size of a small olive. The fruits give us the famous Margosa oil which is so effective in the treatment of leprosy and skin diseases. The oil is derived by crushing the seeds. Like the leaves, Neem oil is used to treat skin problems. It is especially effective in treating head lice and dandruff, and creates a purifying effect when used in aromatherapy. The oil is also used in making Neem based soaps, shampoos and toothpaste. It has even been noticed that mosquitoes exposed to the volatiles of crushed Neem seeds and Neem oil, stop laying eggs! Neem seed cake, the left over part of Neem seed, is used to enrich the soil. In short, Neem is nature's systemic purifier, supporting the natural cleansing mechanisms of our skin and internal organs- which is why it is regarded in Ayurveda as 'sarva roga nivarini' – or that which keeps all the diseases at bay.