Marigold – Ayurveda's Golden Healer
Once a month, usually during new moon, an exotic flower bursts into bloom. It is a glorious golden orange in colour, with pale green leaves, and it is known as much for its medicinal goodness as for its eye catching beauty. In addition, it is also used as a culinary ingredient and pesticide! The flower is the Marigold, also known as Calendula officinalis. This versatile plant is can be found throughout India, and is widely grown in the Valley of Flowers in the Ranthambore National Park. The medicinal properties of the Marigold have been known to Ayurveda, the Mother of All Medical Systems, for thousands of years. Perhaps that is one of the reasons why it is found growing in gardens or in pots in most homes in Kerala- the Indian state that is often referred to as 'the home of ayurveda".
'Lutein', the yellow carotenoid pigment found in abundance in Marigold, has a range of health benefit. It is believed to prevent LDL cholesterol from oxidizing. Evidence from a 1994 study reveals that consuming foods high in Lutein content are associated with low risk of heart disease. Marigolds also contain saponins, flavonoids, mucilage, essential oil, bitter principle, resin and steroidal compounds.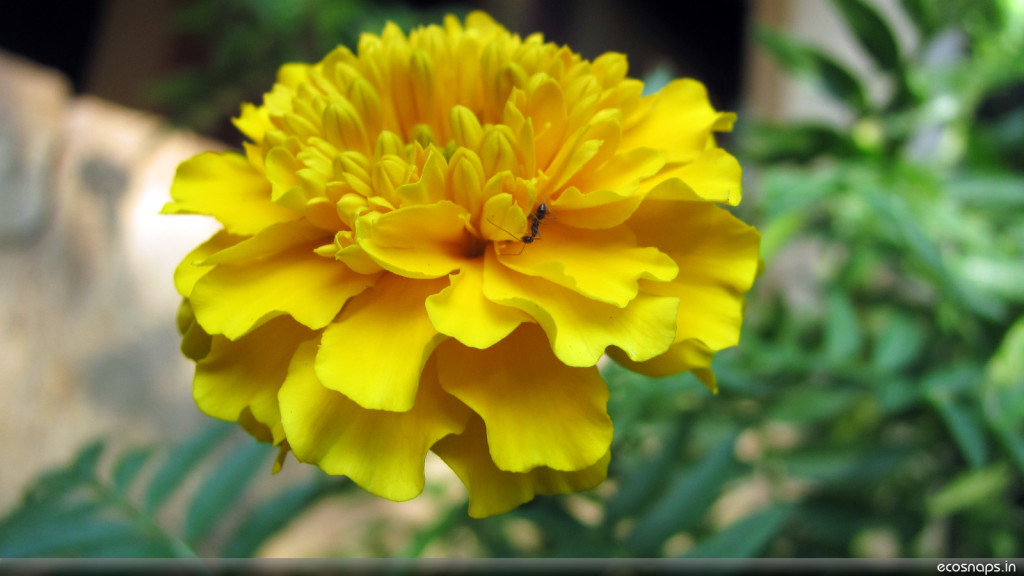 Beauty plus Benefits
The beautiful Marigold cleanses and improves the healing of wounds. An Ayurvedic ointment made from the flowers brings swift relief in phlebitis, varicose ulcers, fistulas, frost bites and burns. The phytochemicals in the plant make it a particularly good treatment for cuts, scrapes, bruises, and minor wounds. It is also effective for more serious skin conditions like psoriasis and eczema, and lends itself well to long term use. Ayurvedic physicians tell us that a preparation made from Marigolds is a good remedy for acne and for the treatment of rashes as well as for of infections caused by fungi including ringworm.
It has been proved that a Marigold flower, rubbed on the affected part, is an admirable remedy for the pain and swelling caused by the sting of a wasp or bee. A lotion made from the flowers is most useful for sprains and wounds, and water distilled from them is good for inflamed and sore eyes. According to Ayurveda, Marigold is useful in stomach upsets, ulcers, and menstrual problems too. It is used to treat alopecia, bladder and kidney problems, blood in the urine and uterine. However, pregnant and breast-feeding women should avoid using preparations made with Marigold.
Methods of Use
In addition to Ayurvedic preparations with Marigold, there are some ways that you can reap the benefits of this plant by making Marigold tea, juice and ointment at home. Dried flowers of the plant can be used to make tea. Boil water and add a tablespoon of dried flowers to the pot of tea and let it steep. The tea purifies blood, and therefore should be had regularly. Marigold tea is a good remedy for cases of diarrhea, liver problems, herpes and glandular swelling, hepatitis, in expelling worms, and intestinal inflammation. Fresh marigold juice, made with the flowers, is best used for scabies and warts. To make an ointment, chop some fresh flowers, and add it to coconut oil. Heat lightly and allow it to cool. The ointments are excellent remedy for athlete's feet, varicose veins, nose scabs, eczema, and skin infections.
Marigolds have two other important uses too.Their scent repel animals and insects, and the underground workings their roots repel nematodes or microscopic worms and other pests for up to 3 years. In addition , the bright petals of signet marigolds add color and a spicy tang to salads and other summer dishes while the flower petals are sometimes cooked with rice to impart the color. The common Marigold is truly an example of beauty that not only pleases the eye, but nurtures good crops, good food- and above all, good health!