Kizhi – Ayurveda's Bundles Of Healing
Ayurveda is more than a science and art- it is a philosophy of life, which believes that a healthy body is essential for peace of mind and spirit. To attain this, it advocates several preventive and healing therapies that purify and rejuvenate the body, mind and soul. One such therapy is done with kizhis where heated herbs, oils, powders, and other prescribed materials are tied into muslin bags to form boluses. These bags are then placed with varying degrees of pressure on different body parts, with special focus on areas where the marma- or nerve points – are located. This is followed by specific massages, done using the fingers, heel of the hand or palm. The pressure application varies according to the nature of ailment and the spot. This therapy is basically a perspiration induced body scrub followed by a special bath. Kerala, which is famous for its 5000 year long tradition of Ayurveda, has refined this technique to perfection, and its many renowned Ayrvedic centres offer several different types of kizhi, that are tailored to a patient's constitution and specific needs.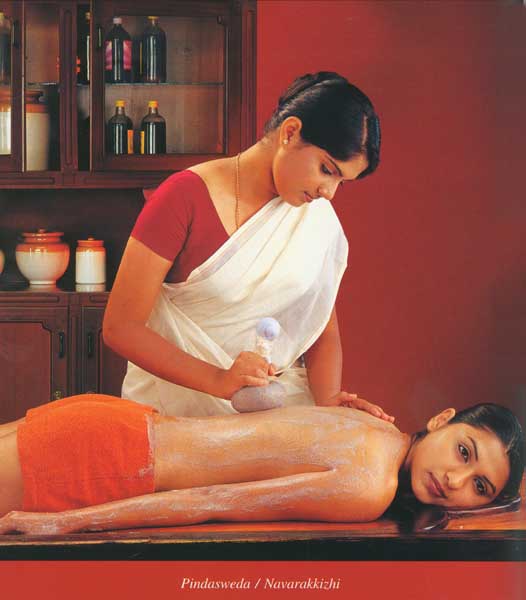 Navarakizhi
Navarakizhi is a rejuvenation therapy that is very useful during the convalescence period of injury and trauma, and also in cases of muscular wasting, arthritis, general weakness, paralysis, and pains related to the joints and sore muscles. This fomentation technique makes use of an indigenous variety of rice that has medicinal properties known Navara or Njavara. Pouches or kizhis are made of Navara rice is that cooked in cow's milk along with certain herbs. Medicated oil is first smeared on the head and body of the patient, and the body is then massaged with these rice bags. The temperature of the kizhi is regulated depending on the tolerance capacity of the person. The procedure is done in seven different postures. After the treatment, the rice paste sticking onto the body is removed and warm medicated oil is once again applied on the body. Finally the patiient is given a bath in moderately warm water. This treatment is recommended for those with high blood pressure and cholesterol levels. It makes the body supple and removes stiffness, promotes sound sleep and makes entire body strong, sturdy and well developed. A course of Navarakizhi boosts the immune system and slows down the ageing process. It improves the luster and texture of the skin, sharpens the vision and the sensitivity of the other sense organs as well.
Other types of Kizhi
Other types of kizhi are recommended for specific conditions. Mutta Kizhi is a form of treatment where boiled eggs and herbal powders are made into pouches and then applied to the body, along with hot medicated oils. Mutta Kizhi is very effective in facial paralysis and hemiplegia. Then there is Naranga Kizhi which is done with linen bags containing cut and fried pieces of lime, garlic, dill seed powder and rock salt. It is a method of therapeutic sweating and as moderate heat is required to sweat, the bundles have to be warmed up periodically by dipping in warm medicated oil. Podikizhi is a therapy that is mainly done with the powdered roots of 12 herbal plants such as alpinia galanga, ricinus communis, sandalwood and dry ginger. Elakizhi is a treatment that uses medicated leaves and oil while Mamsa kizhi is type of massage that uses kizhis containing meat and oil. Whatever the type of kizhi that is recommended this wonderfully relaxing treatment leaves the patient glowing with a feeling of well being that comes when the body, mind, and soul are in perfect harmony.