Roots of an Age Old Tradition
Kerala and Ayurveda – made for each other
This is a land where sunshine and rain are balanced in perfect harmony, where the air is moist and soothing on the skin, where the forests are blessed with medicinal plants and herbs – and the very soil is rich in alkaloids that add to the strength and potency of these herbs. This is Kerala, a land made for Ayurveda, the art and science of holistic living. Its philosophy, rooted in the Vedas, stresses there is a fundamental harmony between the environment and individuals – and in Kerala, this 5000 year old system of healing has been nurtured in an unbroken tradition of excellence.
Ayurveda- A Way of Life
Ayurveda in its purest form survived in Kerala because the geographical location of the state ensured that it remained untouched by the invasions, both foreign and domestic, that were the bane of the rest of India. For centuries, vaidyars or practitioners of Ayurveda, harnessed the benefits of this science of life to ensure the physical, mental and spiritual well being of the people of the state. Every home grew some herbs, every family had their own favourite ayurvedic remedy for common ailments, every child was taught the importance of regular oil baths and massages. The Malayalam month of Karkidakom, which falls in July and August, is considered to be the ideal time for Ayurveda's rejuvenating therapies and protocols. In fact, even the elephants in Kerala enjoy an Ayurvedic diet during this month when the monsoons drench the land with life giving rain.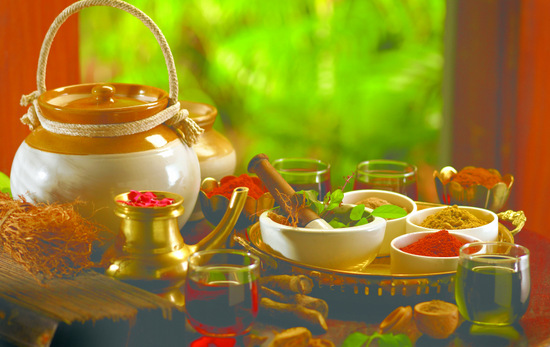 New Protocols, Revered Legacy
The vaidyars of Kerala are perhaps the most proficient in the world in interpreting the ancient Sanskrit Ayurvedic texts as well as in evolving new protocols and treatments based on these texts. Kashaya Chikitsa or treatment with concoctions has been refined and standardized in Kerala. Hundreds of kashayams or concoctions have been scientifically classified, organized and tailored to meet the needs of different modes of treatment. Sirodhara, Pizhichil, Navarakizhi, Thalapothichil, Pachakizhi and Podikizhi are some special Ayurvedic procedures for which Kerala is renowned. There are also several unique herbal formulations that have evolved in Kerala, and these are important in that they stress more on herbal components rather than on metals or minerals. The practitioners of Ayurveda in Kerala have also made great strides in toxicology and in the treatment of fractures, arthritis, and jaundice. Kizhis, or herbal powders tied in muslin bags, are recommended by these vaidyars for a variety of problems ranging from arthritis, rheumatism, low back ache and neck pain to muscle pain, joint pain and problems related with nerves and blood vessels.
Today, more than 12,300 Ayurvedic doctors in Kerala keep this ancient healing system dynamically alive. In fact, Kerala has 119 Government-run Ayurveda Hospitals, 745 dispensaries with 2500 beds, over 800 registered Ayurveda medicine manufacturing units and 16 Ayurvedic medical colleges that offer graduate and post graduate programmes. Is it any wonder then that Kerala has become synonymous with Ayurveda, and Ayurveda with Kerala.