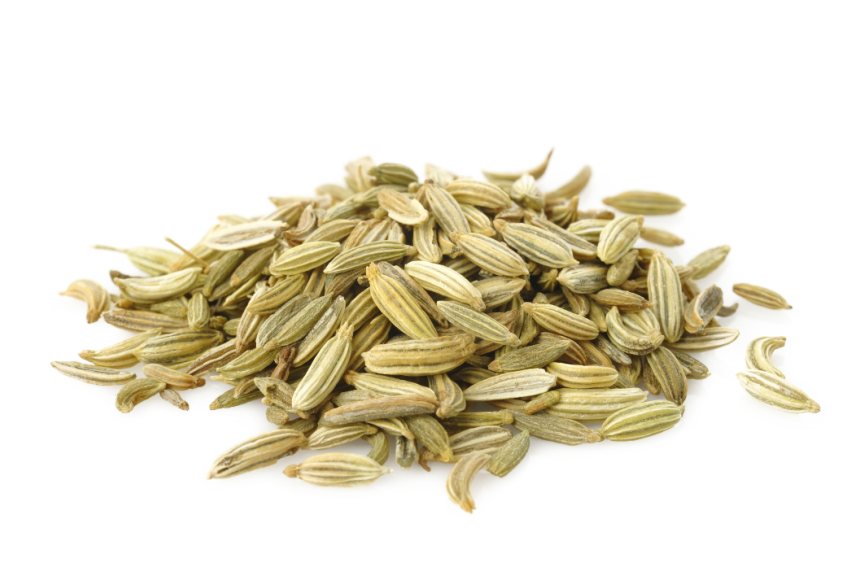 Fennel – Bursting with Goodness
Anita, a 32-year old teacher, had been suffering from digestive problems for several months. After every meal, her stomach felt bloated and stretched. . It was not serious enough to see a doctor; however teaching a bunch of 10-year old hyperactive kids after lunch was proving to be a herculean task with her distended tummy making her feel extremely uncomfortable. She had tried antacid tablets, but was worried about taking too many of them. Her friend suggested Anita substitute the antacids with natural fennel seeds from her kitchen shelf. Though a bit sceptical, Anita tried out fennel seeds, and was amazed at the difference it made to her condition. The post-meal bloated feeling disappeared and she was able to be an active and passionate teacher once again.
Fennel (Foeniculum vulgare), a hardy perennial herb, is a native of the Mediterranean and was used extensively by the Greeks for its medicinal properties. Today the herb is grown across the world and both Ayurveda and modern science acknowledge that the aromatic and flavoursome fennel is not just a great culinary ingredient but also a potent tool to improve health and wellness. Several regional cuisines, like that of Kerala where Ayurveda rules supreme, incorporate fennel in their various dishes. Ayurveda considers the fennel to be one-of–a-kind spice. Normally spices are 'hot' and increase heat in our body. But the fennel with its sweet, slightly bitter taste is a 'cooling' spice. This is precisely the reason why Indians either add a dash of fennel to various dishes or use it as an after-meal mouth freshener. Chewing on a spoonful of fennel refreshes your breath and lightens your stomach. Being a cool spice it soothes any aggravations in Vata, Kapha and Pitta.
Examining the Goodness of Fennel
Modern research has proved ancient Ayurveda right. Fennel is full of vitamins, minerals and anti-oxidants that can do wonders for your body. Flavonoid anti-oxidants like kaempferol and quercetin present in fennel remove harmful free radicals and protect the body from aging and other degenerative diseases.  The seeds are rich in potassium, manganese, copper, iron, magnesium, calcium and zinc. They are also choc-a-block with vitamins including vitamin A, vitamin E, vitamin C and many B-complex vitamins like thiamin, pyridoxine, riboflavin and niacin.
But what gives fennel that extra punch is the preponderance of dietary fibres. Around 100 grams of fennel seeds provide 40 grams of dietary fibres. The metabolically inert insoluble fibre removes toxins, lowers LDL cholesterol levels and keeps the colon healthy. Fennel seeds also have volatile essential oil compounds such as anethole, anisic aldehyde, limonene, fenchone, myrcene,  chavicol, cineole and pinene.
Ayurveda, of course, describes the goodness of fennel seeds in its own way. Ayurveda texts describe the lightness (laghu) of the herb and its unctuous oily properties (snighdha). It extols its sweet (mathura), pungent (katu) and bitter (titka) flavour as cooling and therefore helpful in balancing the three doshas.
Fennel and its Medicinal Properties
Fennel tea can ease colic pain in infants as well as senior citizens. Crush some fennel seeds and add it to freshly boiled water. Cover and let it steep for a minute or two. Strain the mixture and use. The tea helps to relieve intestinal cramps and spasms. Of course, it is always advisable to consult a doctor before giving infants any herbal remedies. Fennel tea is also good for lactating mothers who do not have enough breast milk. It's important to note that Ayurveda does not recommend cooking fennel. Steeping or consuming it raw is considered to be more effective.
Fennel can also help reduce gas formation in the stomach. A popular home remedy is mixing and roasting together equal parts of fennel and cumin. A spoonful of this mixture after every meal can reduce gassy troubles!
What gives fennel its digestive prowess? The oils in fennel have a stimulating impact and encourage the secretion of gastric and digestive juices.  The spice also has anti-spasmodic and anti-inflammatory properties and thus helps to ease stomach cramps. Fennel is also used to reduce worm infestation in the stomach. Vomiting, cough, constipation, burning sensation in the stomach also call for doses of fennel tea or oil.
Fennel oil is an excellent pain reliever and is reputed to soothe the nerves. It thus forms an integral part of several Ayurvedic massage oils. The fennel in the massage oil also helps the body to detoxify. This can be helpful to keep arthritis and immune disorders under control.
Fennel is an excellent beauty aid. Its anti-oxidants help to keep the skin fresh and young. A fennel and honey face pack can help erase wrinkles. Fennel oil blends are often used for facial massages.  Being a cool spice, fennel can be used to keep the heat at bay during summers.  A glass of fennel tea can help prevent heatstroke.
Ayurveda uses fennel to treat respiratory disorders like asthma and cough. Components like lineole and anetole act as expectorants and aid decongestion. Fennel is good for the kidney and liver. Its diuretic properties increase the flow of urine and keep the kidneys in good shape.
An appetite suppressant, fennel is good for weight loss. Having a glass of fennel tea 30 minutes before a meal reduces appetite. Fennel induces estrogen production and is useful to regularise menstrual cycles. It is also recommended for women undergoing menopause or PMS.
Give these health benefits, it's time to throw away the chewing gum the next time you need a mouth-freshener. Instead pop in a spoonful of fennel and enjoy its goodness!