Bhringraj – Ayurveda's Rasayana For Head To Foot Health
Along the sides of the lush rice fields of Kerala, one of the world's most favoured tourist destinations, you will see an abundance of small white flowers blooming on a 3 inch high plant. It is sometimes mistaken for a weed- but don't be fooled. It is Bhringraj, one of the most important medicinal plants in Ayurveda, the world's oldest system of holistic healing. Bhringraj, or Eclipta alba to give it its Latin name, is a moisture loving herb that flourishes in warm wet places everywhere. It is commonly known as False Daisy.
In Ayurveda, Bhingraj is considered to be a 'rasayana' and is recommended for longevity and rejuvenation. Rasayanas are Ayurveda's anti-ageing supplements or foods that increase memory power, good health, young looks, glowing skin, calmness, and resistance to diseases. The extract obtained from Bhringraj plant contains an alkaloid called ecliptine that is resinous in nature and the leaves of the plant contain a rich amount of protein. The plant has a bitter, hot, sharp, dry taste and is used in Ayurveda for the treatment of Kapha and Vata imbalances. Kapha and Vata are two of the three life forces or doshas of Ayurveda, the third dosha being Pitta. According to Ayurveda, an individual can enjoy good health only when all three doshas are perfectly balanced in a proportion that is unique as fingerprint for every individual.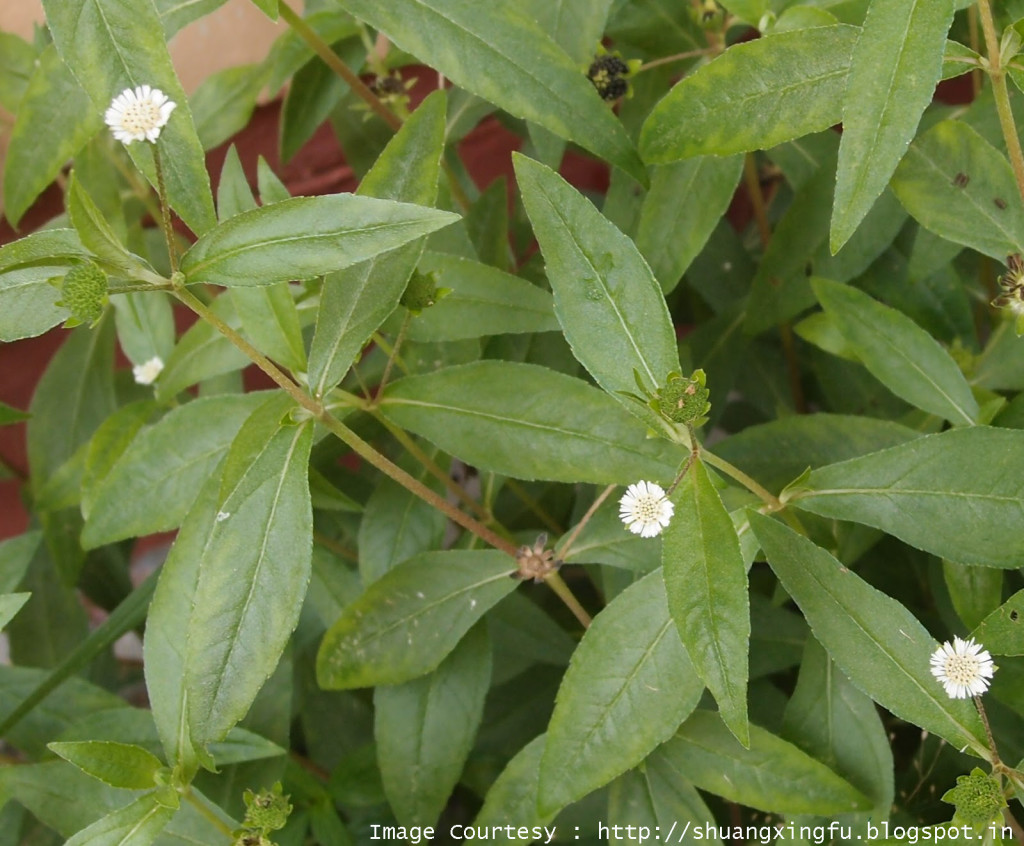 Multi-faceted Benefits
Bhringraj is known for its anticancer, antileprotic, analgesic, antioxidant, antimyotoxic, antihaemorrhagic, antihepatotoxic, antiviral, antibacterial, spasmogenic, hypotensive and ovicidal properties. The leaf extract is considered a powerful liver tonic, and works to rejuvenate the kidneys and liver. The extract can be mixed with honey and given to infants suffering from worms. Bhringraj is also given to children who have urinary tract infections. In Ayurveda, the root powder is used for treating hepatitis, enlarged spleen and skin disorders. Mixed with salt, it relieves any burning sensation when passing urine. Bhringraj is used to prevent repeated miscarriage and abortion as well as to relieve post-delivery uterine pain. The leaves of this herb are also used to reduce uterine bleeding.
Bhringraj brings relief from toothache, and its oil is very effective in case of headaches too. The roots are emetic and purgative. Bhringraj is used extensively by Ayurvedic practitioners, for treating skin diseases and eye infections. Due to its anti-inflammatory properties, the herb is also used for treating hyperacidity. Bhringaraj oil is has anti-aging properties, as it has a rejuvenating effect on the body. It is given as a general tonic in cases of debility.
Bhringaraj is the main herb for hair care in Ayurveda. Collect the entire Bhringraj plant and crush it to make a paste. Apply the paste to the scalp. Leave for an hour, and wash off. Repeat this step daily for 100 days. New hair follicles will slowly emerge from bald areas. A black dye obtained from the plant is used for dyeing hair. In fact, extracts of Bhringraj are believed to grow hair faster than minoxidil!
If your feet ache constantly and you have cracked heels, massage the juice of Bhringraj on the affected area. If this is done regularly, there will be a marked improvement. Another interesting benefit is that it is believed that if a woman wears Bhringraj leaves in her hair during sex, she will become pregnant soon! Now isn't that interesting?