Ayurveda's Sacred, Healing Plant – Sankhupushpam
If you see a pregnant woman wearing a garland or waistband of dried roots, do not be surprised. She is probably following an ancient Ayurvedic tradition which claims the roots of the climbing creeper clitoria terntea facilitate normal childbirth, even in cases where the Gynecologist predicts that a Caesarian Section may be needed! Clitoria ternatea is a stunningly beautiful plant that is found all over India, Egypt, Syria, Afghanistan, Persia, Mesopotamia, Iraq and West Asia. Kerala, the beautiful state in South India, with its abundant rainfall and tropical climate, is abundantly endowed with this medicinal plant whose indigo- and sometimes white- blooms can be seen in riotous profusion, growing over trees and walls. The plant has many names, including Aparajita which means "The Undefeated." It belongs to the pea family, resembles a Snapdragon, and is known as the Blue-pea flower in English. In Malayalam, it is called Sankhupushpam, which means 'conch shell flower'. However, many people think that the flowers do not bear much resemblance to a conch shell, but graphically represent the cutout of an inverted womb. Maybe that explains their close affinity to Indian Midwives! The roots of the White Aparajita are tied as an amulet or charm around the waist about seven days before the scheduled delivery date. How this root facilitates a miraculous and safe normal delivery is beyond explanation by western science- but the fact that the tradition has persisted for thousands of years speaks for itself.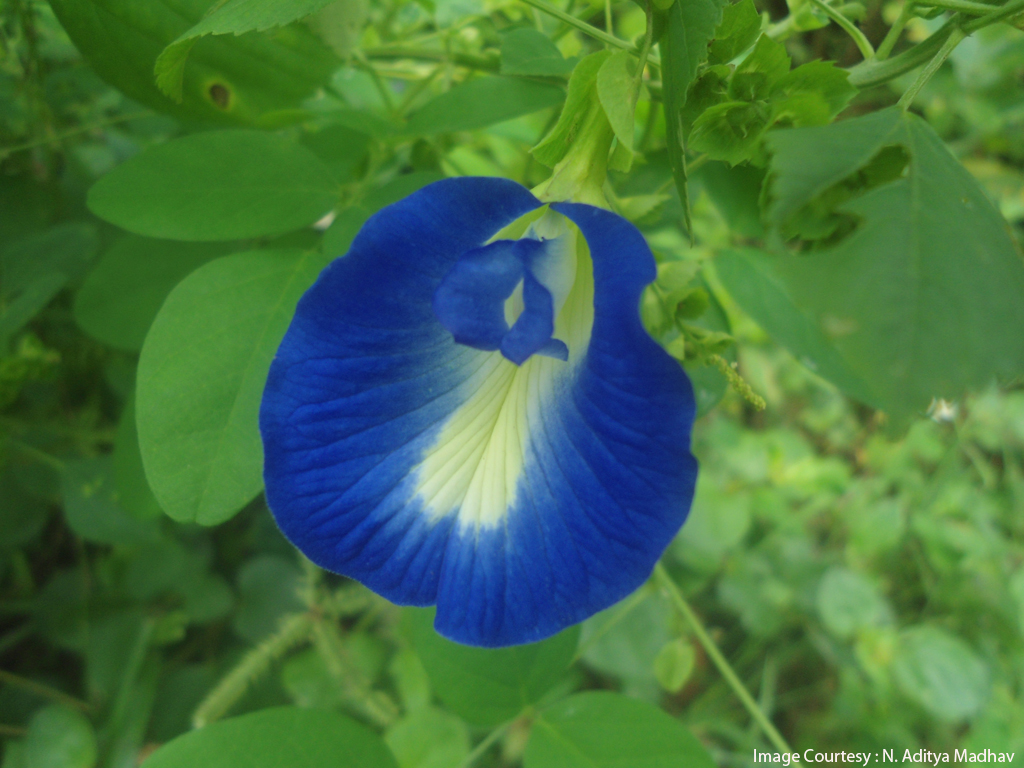 All Round Healing
Shankupushpam flowers and plant are used to prepare a variety of medicinal extracts according to ancient Ayurvedic texts. This plant's medicinal use extends to the cure of certain poisonous snake bites. Mixed with other herbs, it is a potent cure for depression. The roots of the white flowered plant are used to make a medicinal paste for skin diseases. The root extracts are also used for eye, throat infections, and ulcer and for urinary troubles. The root juice extract poured through the nostrils are found to bring relief in cases of migraine. Extracts from the root are also used to treat leucoderma.
The paste of Shnakhupushpam leaf, mixed with little salt is effective in cases of retro auricular adenitis. The juice of the fresh leaves mixed with ginger juice can be used to control excessive sweating. Leaf juice is also used as nasal drops to relieve headaches. Sankhupushpam is used for common cold, cough, asthma and it reduces the irritation of respiratory organs. It is a good blood purifier too.
Because of its tranquillizing effects on the brain, extracts from the plant can be used in symptoms like brain weakness, vertigo and syncope. Sankhupushpam is an antiemetic, antidypsetic, mild laxative and cholagogue Therefore it is used in emesis, dyspepsia, constipation jaundice and piles. In addition to the roots and leaves, the seeds have medicinal value too. They are fried in ghee and powdered and consumed with hot water for skin diseases. Or, they can be crushed with honey and applied topically for Tonsillitis. Herbal extracts from plants are seen to possess spermatogenic properties and thus used in cases of sperm debility. A decoction of this herbal plant is used for cleaning wounds and it has ability to prevent pus formation.
Sankhupushpam is valuable in so many ways. We have seen that Ayurveda uses the leaves, flowers, stems and roots of this plant for preparation of many ancient herbal remedies. In addition, it is considered to be a scared flower and is used in pujas and rituals. An added benefit of having a plant in your garden is that it gives a house an "Invincible Aura" which extends to its inhabitants as well, according to Feng shui- so make sure you have a sankupushpam plant in your home too!