Ayurveda's Medicine Chest
Basil, Aloevera, Bamboo, Asparagus, Cardamon, Castor, Cinnamon, Papaya, Marigold… these are just some of the hundreds of plants that are used in the preparation of Ayurvedic medicines. Ayurveda originated more than 5000 years ago in India and is a holistic healing system that relies on Nature for its medicine chest. The plants used in Ayurvedic medicines are found all over India and the world, but Kerala in India is specially blessed with the ideal climate and soil conditions to nurture their abundant growth. Kerala is therefore considered to be the Mecca of medicinal plants.
Ayurveda has grouped plant compounds into categories, according to their effects- for example, healing, promoting vitality or relieving pain. Its medicines have evolved from thousands of years experience, observation and experiments. The recipes and methodology have been prescribed by the ancient rishis or sages, and handed down from generation to generation. Consequently, they represent one of the best and purest forms of healthcare. The actual preparation is done with care and precision. The correct ingredients for each medicine are correctly selected and the herbs are freshly collected, painstakingly cleaned and then sun-dried. Each step is carried out with devotion, for Ayurveda is not just about medicine, it is a spiritual experience as well.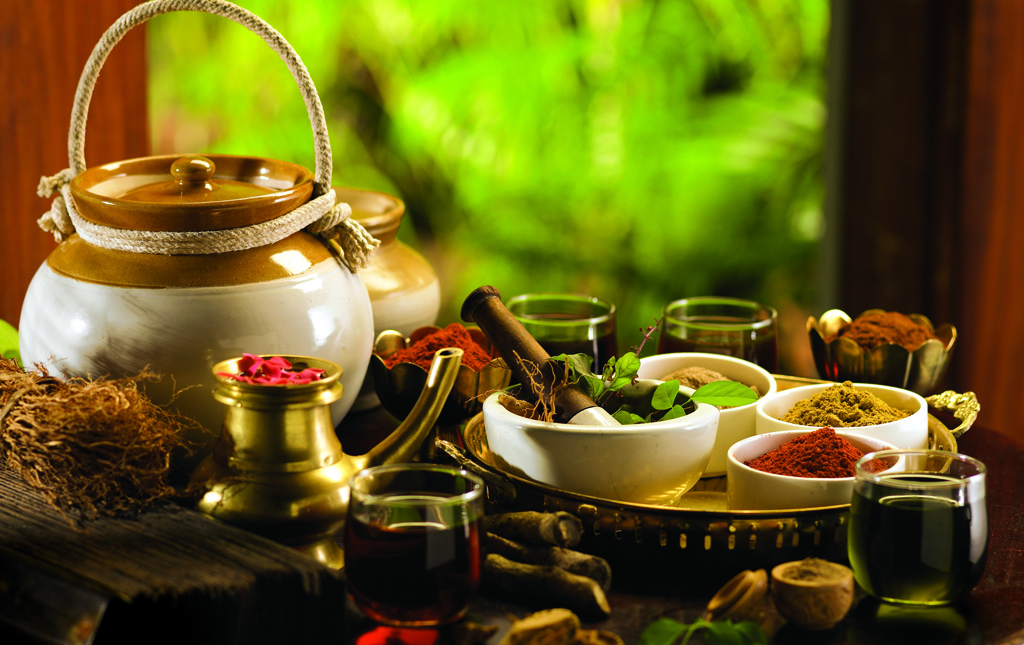 Most Frequently Used Medicines
Arishtas are one of the most frequently prescribed Ayurvedic medicines. Arishtas are made with the fermented decoctions of herbs boiled in water. They are used as a digestive and a cardiotonic. Another common Ayurvedic preparation known as Asavas is prepared by directly using fresh herbal juices that are fermented. They are effective in as a cure for bronchitis, cough, rickets and other conditions. Both Asavas and Arishtas are liquid in nature, have a sweet taste, a smell similar to that of alcohol and acquire strength with time.
Thailams are Ayurvedic oils. They are herbal decoctions boiled with gingelly oil, coconut oil or castor oil. They can be used both internally and externally. Kashayams are made by boiling herbs in water until a concentrated form of the decoction is obtained. Lehyams are pastes prepared from herbs with honey, sugar or jaggery added to the mixture. Churnas are dry medicinal powders, prepared by crushing and powdering herbs. In an Ayurvedic diet, churna supplements are relied upon for many dietary and nutritional uses. The herbal mixture is thought to purify the blood and improve digestion when regularly used. Many Ayurvedic practitioners also use the blend to help prevent or treat inflammation. The immune system may be improved by ingesting these herbs as well.
Ayurvedic pills are known as Gutikas. They are herbal mixtures that are ground, rolled into small balls, and dried. Ayurvedic medicines also include Bhasmas that are fine powdery preparations of minerals or chemicals, purified by special processes usually at high temperatures, and Grithams which are preparations of herbs in ghee.
Ayurvedic medicines can generally be taken along with conventional treatment, unless otherwise indicated. However, the Ayurvedic physician is the best judge of that, and his advice must be sought in the matter. Today, Ayurveda Medicines are used as adjuvant to allopathic medicines in most chronic and degenerative diseases. As such, there is no harm in taking simple herbal formulations of Ayurveda over the counter, but mineral based medicines must be used only after due consultation with the doctor.